Catholic or Adventist: The Ongoing Struggle Over Authority + 9.5 Theses
By admin On July 8, 2017
Under Seventh-day Adventist Issues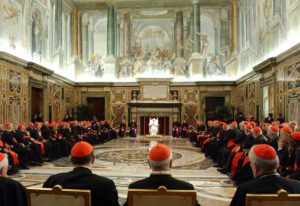 The Seventh-day Adventist church that is moving dangerously close to the kind of kingly power we have always spoke out against in the Holy Roman Catholic Church (with its Magisterium). Ellen White fought against this same thing (a hostile takeover by the GC) in the late 1800s.
I have been warning those in our church about these things for the last couple years. This same warning is now being lucidly articulated from one who, because of where he's been, is in a better position than I am to really know the truth. The essay below should be read by everyone in the Seventh-day Adventist church. If our unions and conferences do not stand together and take decided against this power grab by the General Conference then we will fall one by one…
Just read the poem The Hangman, and you will understand.
And where are the others that might have stood
Side by side in the common good?
"Dead," I whispered: and amiably
"Murdered," the hangman corrected me:
"First to the alien, then to the Jew…
I did no more than you let me do."
Beneath the beam that blocked the sky
None had stood so alone as I—
And the Hangman strapped me, and no voice there
Cried "Stay!" for me in the empty square.
I encourage all who love the Seventh-day Adventist church to read this essay on authority in our church by George Knight.
What I am saying here should not be taken lightly by anyone. Those of us who love the Seventh-day Adventist church must not look the other way on this. We must support those who dare to stand against this tyranny in our church. I encourage you to take the time to read this and then to support the unions and conferences in our world church who are courageous enough to defend our freedom in Christ.
Catholic or Adventist: The Ongoing Struggle Over Authority + 9.5 Theses by George R. Knight
Or read Dr. Knight's book, Authority Wars, Ordination, and the Roman Catholic Temptation